Painting Music
Art Lesson Plan
Objectives
Students will paint colors, lines, and subjects in order to portray the mood of music they listen to. They will also learn about several pieces of classic artwork and musical styles.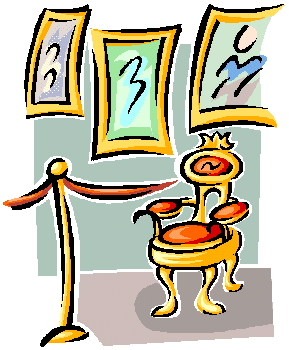 Materials
Paintings:
"Girl in a Boat with Geese" by Morisot - impressionist
"Mural" by Jason Pollock - abstract
"Still Life" by Paul Cezanne - Renaissance
"The Potato-Eaters" by Vincent Van Gogh - Dutch interior, somber
"Rush Hour, New York" by Max Weber - cubism
Provide musical selections from five different categories of music that can be related to the artwork you chose for your students. Here are some ideas of music that might fit with the art listed above—but there is no "right" or "wrong."

Music:
Enya or other Celtic music or chants - relates to impressionism
"Cool" Jazz or other instrumental Jazz - relates to abstract art
classical music - relates to Renaissance painting
saxophone music / melancholy inst. - relates to Dutch interior artwork
disco music - relates to the cubism style
These are just examples of items you can select. Pick art and music to your taste.

You will also need a piece of music that is different from the five you chose above, such as flamenco style, reggae, country, etc. Paints will be needed for the students to make their own art listening to the extra selection that you chose.
Procedure
Display the five pieces of artwork for the whole class to see. Give them a little time to study them.
Play the five different pieces of music and have students match the music to the pictures.
Let your kids know that there is not a "correct" answer. Rather, if they can support their choice with sound reasoning, any combination of music and art should be viable.
Discuss with your class the similarities between the music and the art. Why do lines or certain shapes coincide with the music? What parts of the picture exhibit characteristics of the music? How do dark lines create a different feeling that light lines? Curvy vs. straight? What do the colors contribute to the mood?
After your students have a feel for portraying mood through line and color, they will paint a picture to your extra selection of music.
Have them paint as they listen to the music. They might just paint lines, they could paint a picture that the music makes them think of, or anything else that they feel.
Closure
Have students reflect on why they painted what they painted, why they chose the particular colors they did, the style of art they used, etc. How does their picture correlate with the music?
Evaluation
Were students able to make a connection between the music and the art? Did they participate in the discussions? Were they able to back up their work with reasoning?